Discover new adventures while staying in Sandbridge, Virginia Beach.
KIDS CORNER
THE INSPIRED PENCIL- When enjoying the Sandbridge local attractions, consider taking along The Inspired Vacation Journal to create an interactive, fun writing environment for your children. Kids can engage their senses by writing real restaurant reviews, interviewing family and friends, and more! These journal activities are designed to present meaningful writing opportunities for children 5-8 years old, while providing tools for the family to connect and build lasting memories during vacation. Discover more about this journal by visiting: THE INSPIRED PENCIL

THEME PARKS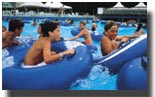 OCEAN BREEZE WATER PARK- Only 15 minutes from Sandbridge, A family friendly, Caribbean paradise, 2 miles south of the Oceanfront! 16 water slides, wave pool and water playground. Restaurants, on-site catering and private cabanas. Free parking! Open May 22 - September 7,12 & 13.
849 General Booth Blvd., VA Beach. (757) 422-4444.

VA.BEACH MOTORWORLD FAMILY THRILL PARK - Located right beside Ocean Breeze Water Park, this park features Thrill Zone Rides (guaranteed to make you scream!), Kids Zone Rides for younger kids, Strike Zone Batting Cages, Race Zone Grand Prix Race Cars, Golf Zone Miniature Golf, and Game Zone with video games galore! Great place for family fun!
700 South Birdneck Rd, VA Beach. (757) 422-6419.

BUSCH GARDENS-THE OLD COUNTRY - Go to Europe and back in a day at this marvelous theme park that captures the spirit of Shakespeare's England, France, Italy and Germany. Enjoy exciting rides, live shows, authentic cuisine, wild water rides, 4-D film spectacular, strolling entertainers and more! The kids will love the new "Land of the Dragons," an interactive children's adventure land.
Williamsburg. (757) 253-3350.

WATER COUNTRY U.S.A. - Let's Go Surfing! A park set to a colorful 50's - 60's surf theme. This park features more than 30 Water Rides, Live Entertainment, Shopping, and Tasty Restaurants!
Williamsburg. (757) 253-3350.

BOAT CRUISES / PARASAILING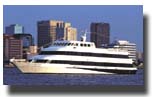 SPIRIT OF NORFOLK - A harbor tour aboard this modern cruise vessel is right in keeping with your vacation spirit. You can enjoy a delicious buffet, sun during the day, or dance the night away as the 500-passenger luxury ship takes you around Norfolk's harbor. Call (757) 627-7771 for schedules, information & reservations.
Departs from Dunmore Dock at Norfolk's Waterside.
AMERICAN ROVER - Sail on Norfolk's only "Tall Ship". This stunning, classic 35ft topsail schooner is the largest 3-masted passenger topsailer schooner under U.S. flag. Fully equipped with all the modern amenities for a safe & comfortable sail.
Group rates. Norfolk. (757) 627-7245.
LYNNHAVEN MARINA BOAT CRUISES - Come for a day (or 1/2 day) of fishing or even a "Sunset Dolphin Watching Cruise" at Lynnhaven Seafood Marina and Dockside Inn restaurant. Located at the foot of the Lynnhaven Inlet Bridge.
3311 Shore Drive / (757) 481-4545.
VIRGINIA JEWEL CRUISES - Virginia Beach's One and Only Fine Dining Yacht, the "Virginias Jewel". Just 3 blocks from the Virginia Beach oceanfront. The Virginias Jewel specializes in private charters and public cruises. If your looking for that unique intimate venue that will create memories for a lifetime, the Virginias Jewel is that "somewhere special" you've been looking for. Please call 757-425-6688 for reservation inquiries. 600 Laskin Rd.
RUDEE INLET JET SKI RENTALS & ADVENTURE PARASAIL - Get ready for the exhilaration of take-off, followed by the panoramic view of the Virginia Beach coastline while soaring in the sky.
Located at 300 Winston-Salem Ave. / (757)428-4614 for Jet Ski Rentals or (757)422-UFLY (8359) for Parasailing.
PARASAIL - "Fly in the Sky" over the local waters of Va. Beach in fun Parasails. Great Family Fun! Va. Beach Fishing Center, 5th & Pacific Avenue / (757) 422-9600.

MUSEUMS

VIRGINIA AQUARIUM AND MARINE SCIENCE MUSEUM - Only 15 mins. from Sandbridge! View sharks, seals, sea turtles or touch live sea animals, create hurricanes, design your own fish on a computer. Over 750,000 gallons of aquariums and live animal habitats. The sting ray exhibit is absolutely breathtaking And don't miss the IMAX 3-D Theater.
717 General Booth Blvd., Va. Beach.
(757) 385-FISH

LIFE-SAVING MUSEUM OF VIRGINIA - Relive the victories and tragedies of men and women at sea. Formerly a life-saving station built in 1903, the museum gives visitors a rare insight into the early days of shipwrecks and life-savings efforts.
24th Steet & Boardwalk. (757) 422-1587.

ATLANTIC WILDFOWL HERITAGE MUSEUM - Dedicated to the wildfowl of the Atlantic Flyaway and preserving the heritage that is unique to Eastern Virginia.
Located on the boardwalk of Va. Beach and 11th St. (757) 437-8432

VIRGINIA LIVING MUSEUM - Transport yourself to the steamy world of a cypress swamp... complete with alligators and snapping turtles! See animals native to Virginia and explore the underwater world of the Chesapeake Bay.
524 J. Clyde Morris Blvd. Newport News. (757) 595-1900

WARBIRDS OVER THE BEACH - MILITARY AVIATION MUSEUM - The Military Aviation Museum is located just 3 minutes south of downtown Pungo. This fascinating museum features an impressive collection of beautifully restored military aircraft that flew during World War II and the Korean conflict. Occasionally, these planes are flown on local demonstration flights. Also featured at the museum is an array of classic "Vintage Cars". This attraction is a must see for all history buffs. Open 9am-7pm / 7 days a week.
1341 Princess Anne Road Va. Beach. 757-721-PROP

NAUTICUS MARITIME CENTER - Navigate a supertanker, build a ship, land a plane, predict the weather, drill for oil, touch sea creatures & more!
Norfolk Waterside. (757) 664-1000.

LOCAL SANDBRIDGE ATTRACTIONS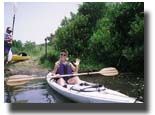 KAYAK NATURE TOURS - Kayak Nature Tours, Ltd. offers guided Dolphin Kayaking Adventures, calm water Kayaking at 64th Street inside First Landing State Park and Back Bay National Wildlife Refuge. We also offer many other paddling locations as well as all day trips. Visit our web site at www.kayaknaturetours.net or call us directly to plan your next kayaking adventure. Local-(757) 480-1999 Toll Free-(888) 669-8368 Kayak Nature Tours

BACK BAY GETAWAYS - Imagine paddling through the pristine waters of Back Bay, cycling down a remote trail, or camping on an isolated beach far away from the trappings of everyday life. Take a drive to the end of Sandpiper Road, and start your adventure! Back Bay Getaways 757-721-4484
information@backbaygetaways.com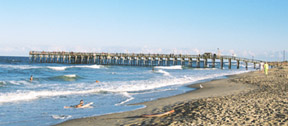 LITTLE ISLAND PARK - Sandbridge Beach's Little Island Park is a large public beach area that provides a great place to spend your fun-filled vacation days. And this year it gets even better with a packed calendar of FREE EVENTS designed to bring a little taste of the resort area entertainment to the laid back attitude of Sandbridge. The park, which is located at 3820 Sandpiper Road, will host family events every Tuesday and Thursday night (see calendar of events below). The park also features lifeguards on the beach, basketball, tennis, and volleyball courts, concessions, picnic shelters, bath houses/showers, playground equipment, and there's even a fishing pier that's open 5:30am - 11pm. (757) 426-7200.



BACK BAY NATIONAL WILDLIFE REFUGE - Located at the southend of Sandbridge, this unspoiled wilderness contains 9,100 acres of beach, dunes, woodlands, and marsh. Possible sightings at the refuge include deer, rabbits, raccoons, opossums, minks, foxes, hawks, osprey, owls, herons, swans, bald eagles, loggerhead turtles, and in the surf… pilot whales and dolphins! Hike/bike through the refuge or take a ride on the trams that run through the refuge daily. Refuge Office: (757) 301-7329.
GETTING AROUND - LUXURY LIMO SERVICE
SANDSHARK LIMO SERVICE - **Airport Pickup and Dropoff Service ** They've got the ride to suit your style!

THE SHARK: Their 14 passenger party bus is tricked out with unbelievable luxury and amenities,
including leather seats around the entire perimeter, neon surround lighting and a 42" Wide Screen TV...
Tall enough to stand in, you won't believe how pampered you will feel in THE SHARK!

THE VINTAGE GREAT WHITE: The elegance and beauty of their special 1963 Vintage Rolls Royce is unsurpassed in luxury, so why not try the "Great White" and travel like royalty!

Take a bite out of your boring night and come party with the SHARKS! 757-217-5899 / http://www.sandsharklimos.com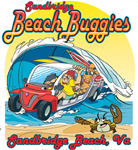 FUN PLACES TO VISIT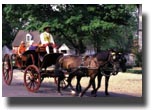 HISTORICAL WILLIAMSBURG - Journey back into the 18th-century in this gracious colonial town. You can watch costumed artisans recreate early American crafts, dine in Authentic 18th century taverns or explore elegant formal gardens.
Call 800-447-8679 for information.

THE CONTEMPORARY ART CENTER OF VA - Offers activities including monthly art exhibits, adult & children's education programs & outdoor art shows. Its Annual Boardwalk Art Show is the largest on the East Coast. 22nd & Park Ave. Va. Beach. (757) 425-0000.

NORFOLK WATERSIDE - Dining, shopping, and pure entertainment! Browse through unique shops, enjoy great food and entertainment, music, comedy, karaoke, and dancing! Or stroll outside to watch the passing ships. Downtown Norfolk. (757) 627-3300.

VIRGINIA ZOO - Enjoy 53 beautiful acres with over 400 animals! Adjacent to the zoo is a 50-acre park with a picnic area, playground, and a snack bar.
3500 Granby St. Norfolk. (757) 441-2706.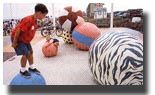 THE BOARDWALK - You'll see everything you ever imagined along Virginia Beach's famous boardwalk. Sidewalk entertainers, amusements, free concerts, gift shops, restaurants, and much more! A "must do" on your vacation.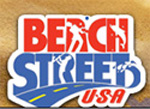 Try the Beach Street USA web site
for a current listing of other area events.
THE VIRGINIA BEACH
AMPHITHEATER

One of the most exciting attractions to Virginia Beach is the Amphitheater and best of all... it's only 15 minutes from Sandbridge Beach! The amphitheater has seating for 20,000 guests - 7,500 reserved seats under the pavilion roof and room for 12,500 on the lawn. There's literally not a bad seat in the house!

The Virginia Beach Amphitheater event dates are subject to change.
Visit their web site for concert information.